Halloween is just around the corner, and we know that means many of our sweet-toothed patients are getting excited for a night full of their favorite candies and treats. But while all of that can be fun, it can spell disaster for teeth and braces. The sugar in candy combines with bacteria in the mouth to produce enamel-eating acid, and any hard or sticky candies can damage braces and orthodontic appliances. Fear not, though - for this blog, we're going to detail some braces-friendly treats that will keep your sweet tooth satisfied and your teeth and braces strong this Halloween!
Three Ingredient Chocolate Truffles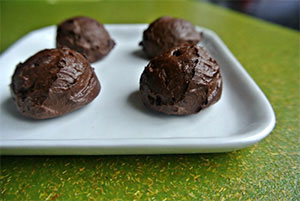 This simple recipe will leave you wanting more without feeling guilty about indulging. To start, you'll need 9 ounces of heavy cream, 4 ounces of unsweetened baking chocolate, and a bottle of liquid stevia. Making them couldn't be easier - simply combine the cream and chocolate in a pan over medium heat and whisk until you've got a thick, creamy mixture. Stir in the stevia to taste, then bring back to room temperature and spoon out small scoops onto the paper. Let it sit until it sets, then enjoy!
Spooky Oranges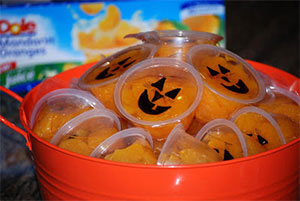 This is by far the easiest treat on the list, and it's a fun way to get kids in the spirit of Halloween without loading up on sugar! All you'll need is individually packaged mandarin orange cups and a sharpy. Draw a jack-o-lantern face on your cups, and you've got something that will get any kid excited for a healthy snack!
Nutella Cheesecake Fruit Dip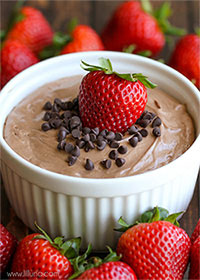 This is a creamy, delicious Nutella flavored dip that's perfect for pairing with fruit - a great way to satisfy that sweet tooth while offsetting most of the sugar content. To make it, you'll need 3/4 cup of Nutella, 1/3 cup powdered sugar, 1 cup lite Cool Whip, and 8 oz of softened cream cheese. Mix the Nutella, powdered sugar, and Cool Whip into a bowl until well combined, and then fold in the cream cheese. Pour it into a bowl and enjoy with bananas, strawberries, or your favorite fruit!
Contact Your Denver, CO Orthodontist
Have more questions about how to keep your teeth healthy this year? We're here to help! Feel free to read up on some common questions or use our easy online form to schedule an appointment at one of our offices. We can't wait to hear from you, and we look forward to seeing you back at this blog for more fun tips on taking care of your smile!