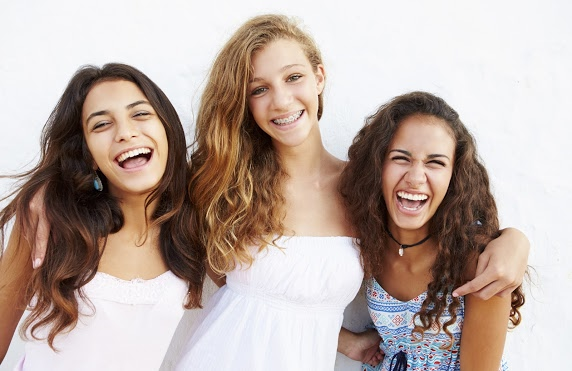 Starting treatment with braces can be an intimidating prospect, but heading back into the school year with a brand new set of braces can be even more unsettling. At All About Braces, however, we've helped plenty of school-aged kids in the Denver area achieve a new smile through braces, and experience has shown us that life with braces during school is truly #NBD. If you're nervous about starting school with braces, here are a few important things to keep in mind.
You're Not the Only One
Be honest here: do you think you're the only one that's starting the school year with braces? While we can treat patients at any age, the vast majority of orthodontic patients start braces between the ages of 9 and 14. That means that generally, most of the kids in your grade will all get braces around the same time. You likely won't be the only one heading into school with braces this year, and the majority of your classmates will have either had braces recently or be starting orthodontic treatment soon.
#TYBG for Modern Braces
On another note, braces aren't nearly as bulky as they used to be. Modern braces are thinner, more comfortable, and – best of all – more discrete and aesthetically pleasing than ever. Instead of massive metal strips, you'll be heading back to school with sleek, small, and thin brackets on your teeth, which means your braces will be less obvious in pictures and in day-to-day life. While it may seem daunting at first, you'll forget you're even wearing braces by mid-semester!
In the Long Run, It's Worth It
Finally, it's important to remember that your braces aren't some kind of punishment: they're your ticket to a gorgeous new smile that you'll get to enjoy for a lifetime. While braces can be inconvenient, you're working towards optimal orthodontic health and ensuring that your best asset – your smile – is one you feel great about. If you find yourself nervous about wearing braces to school, just think about the confidence, self-esteem, and happiness you'll get to enjoy when you get your braces off and see your new smile for the first time – and remind yourself that you'll get to enjoy that for the rest of your life.
Schedule a Consultation with Your Denver, CO Orthodontist
Going back to school with braces may not be the most fun experience in the world, but it's a small price to pay to get a beautiful, healthy smile for a lifetime. As always, feel free to reach out to us at our contact page if you have more questions about going back to school with braces, and if you're interested in pursuing orthodontic treatment for yourself, we encourage you to request a consultation online. We can't wait to hear from you, and we hope you have a happy, braces-friendly school year!