For most kids, life with braces can be an adjustment at the beginning. At All About Braces, we want to make this transition to braces as easy as possible, especially when it comes to food. We will give you the tools to navigate what to eat and what not to eat to ensure your orthodontic treatment goes as planned while you still continue eating the foods you love! This starts with school lunches. Whether you are bringing your lunch from home or are buying lunch at school, we want to prepare you with great school lunch ideas that will pair nicely with your braces and fuel you throughout the school day.

The Classic Sandwich
Our children's and pediatric orthodontists always recommend sandwiches. They are a classic lunch food, perfect for kids with braces and teens with braces, and you can prepare a variety of sandwiches with different meats, cheese, vegetables, and bread. Both sandwiches and wraps are soft foods that pair well with braces and will not damage your brackets or wires. However, we do suggest avoiding any "rubbery" deli meats. Sometimes, boiled or thick cut hams or turkeys can be quite rubbery and therefore difficult to chew. Good options for sandwiches are high-quality ham and cheese, the all-time favorite peanut butter and jelly, tuna or chicken salad, and any other toppings or condiments you enjoy.
Pastas, Soups, Casseroles & More!
If you want to switch up your lunchtime foods from sandwiches, there are many hot-lunch options that are great too. Most school cafeterias have a microwave that you can use to warm up your food, therefore allowing you to enjoy your favorite meals from home. All of the following meals are great for kids with braces:
Various types of pasta with your favorite sauce
Soups or stews with meat, vegetables, or pasta
Casseroles with cooked meat, vegetables or pasta
Any type of hot sandwich like a grilled cheese
Ground meat, including meatballs or meatloaf
All of these options are easy to chew and will not cause problems for your braces while at school. Remember, after lunch, our orthodontists at All About Braces to recommend brushing, rinsing, and cleaning your teeth and braces to ensure food particles are not stuck in between the teeth and braces.
Foods To Avoid
Throughout your orthodontic treatment, you'll be reminded of which foods you can enjoy and which foods you should avoid while wearing braces. For school lunches, we suggest avoiding the following foods: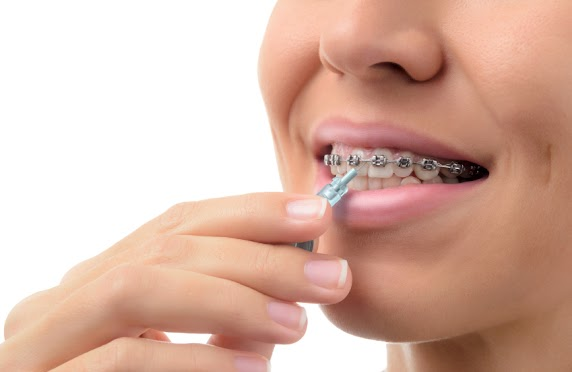 Hard & Crunchy Foods: taco shells, raw fruits, and vegetables (like apples or carrots), chips or popcorn
Acidic or Sugary Drinks: soda, citric fruit juices, energy drinks
Sticky Foods: chewing gum, taffies, or caramels
By avoiding these foods, your teeth and braces will be in better shape and your orthodontic treatment will go as planned. If you do ever eat something that damages or breaks your braces, please contact All About Braces immediately. We will schedule an appointment and ensure everything is working properly!
Call All About Braces Today!
For any food concerns while at school or questions about what you can and cannot eat, please ask our children's and pediatric orthodontists. Our team will be more than happy to help you answer any questions you may have. It is our goal to make this process as easy as possible for your child or teen. Schedule your next appointment with All About Braces or contact us directly! We have 3 offices conveniently located in Denver, Lakewood, and Aurora. All About Braces looks forward to seeing you again soon!